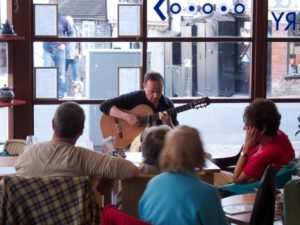 On Sunday 5th I decided to play guitar at an open mic evening in Lewes, East Sussex. It's a great occasion to try out new pieces of music before I play them at a wedding or other ceremonial event. Every month the Baltica Café invites artists for an evening of entertainment. I have already played there once before.
It's an interesting mixture of musicians, poets, storytellers, comedians and other entertainers. This time I played a piece I wrote some time ago called 'A sigh of relief', which I have only played once at my own wedding, as it was a gift for my wife.  After that I followed up with a well known piece by Francesco Tarrega a composer around the turn of the 20th century called 'Rescuerdos de la Alhambra' .
It was also an opportunity for me to try out my new guitar.  It was built for me by Stephen Hill, a well-known Luthier, who was originally from Lewes before he moved to Spain.  I am very happy with this beautiful new guitar, I needed no amplification and many people commented on the beauty of the sound.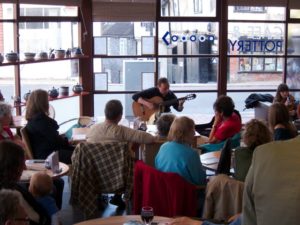 I enjoyed playing guitar at this café because it doesn't only give me practice and exposure; I also get to see some really good artists and entertainers. It was a rich evening with lots of talented people. The café holds this event on the first Sunday of the month, a day I will keep in my diary from now on."